Hex shank drill punch drill rod /Small hole diameter taper drill rod for blast
Product Description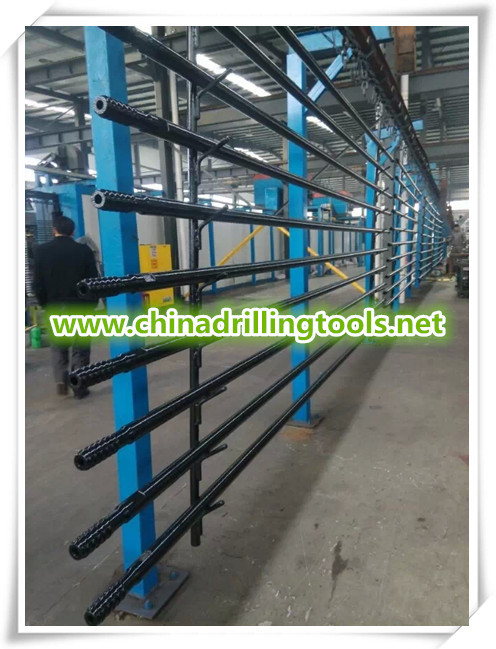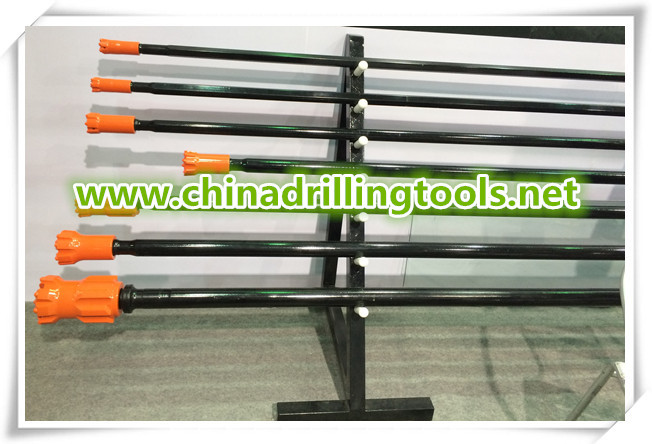 Drifter rods R32-Hex.25-R25-Length(2100mm-3700mm)
Extension rods R25-Hex.25-R25-Length(915mm-3050mm)
Speed rods R25-Hex.25-R25-Length(610mm-1220mm)
Drifter rods R32-Hex.28-R28-Length(2400mm-4920mm)
Extension rods R28-Hex.28-R28-Length(3050mm)
Speed rods R28-Hex.28-R28-Length(3050mm)
Drifter rods R38-Hex.32-R28-Length(2900mm-4310mm)
Drifter rods R32-Hex.32-R28-Length(3090mm-4310mm)
Drifter rods R38/T38-Hex.32-R32-Length(2400mm-5530mm)
Drifter rods R38/T38-Hex.35-R32-Length(3090mm-6100mm)
Speed rods T38-Hex.35-R32-Length(3700mm-6400mm)
R32 thread:
Extension rods, R32-Round32-R32, length 915mm/1000mm/1220mm/1830mm/2435mm/3050mm/3660mm
M/F rods, R32-Round32-R32, length 915mm/1220mm/1525mm/1830mm/2435mm/3050mm/3660mm
Guide speed rods, R32-Round39-R32, length 3050mm/3660mm
Guide tube, R32-Round46-R32, length 1220mm/1525mm/1830mm/3050mm
T38 thread:
Extension rods, T38-Round39-T38, length 1220mm/1525mm/1830mm/2435mm/3050mm/3660mm/3965mm/4270mm/4880mm/5530mm/6095mm
Double thread extension rods, T38-Round39-T38, length 3050mm/3660mm
M/F rods, T38-Round39-T38, length 915mm/1220mm/1525mm/1830mm/3050mm/3660mm/4270mm/4880mm/5530mm/6095mm
Guide speed rods, T38-Round46-T38, length 1830mm/3050mm/3660mm/4270mm/4880mm/5530mm/6095mm
Guide tube, T38-Round56-T38, length 1220mm/1525mm/1830mm/3050mm/3660mm/4920mm
Hex extension rods, T38-Hex32-T38, length 1220mm/1830mm/2435mm/3050mm/3660mm
T45 thread:
Extension rods, T45-Round46-T45, length 1830mm/2435mm/3050mm/3660mm/4270mm/5530mm/6095mm
M/F rods, T45-Round46-T45, length 1525mm/1830mm/3050mm/3660mm/4270mm/5530mm/6095mm
Guide speed rods, T45-Round52-T45, length 3050mm/3660mm/4270mm/5530mm/6095mm
Guide tube: T45-Round64-T45, length 1220mm/1525mm/1830mm/3050mm/3660mm
Guide tube: T45-Round76-T45, length 1830mm/3660mm
T51 thread:
Extension rods, T51-Round52-T51, length 3050mm/3660mm/4270mm/4880mm/5530mm/6095mm
M/F rods, T51-Round52-T51, length 1525mm/1830mm/3050mm/3660mm/4270mm/4880mm/5530mm/6095mm
Guide rods, T51-Round76-T51, length 1830mm/3660mm
Guide tube, T51-Round87-T51, length 3660mm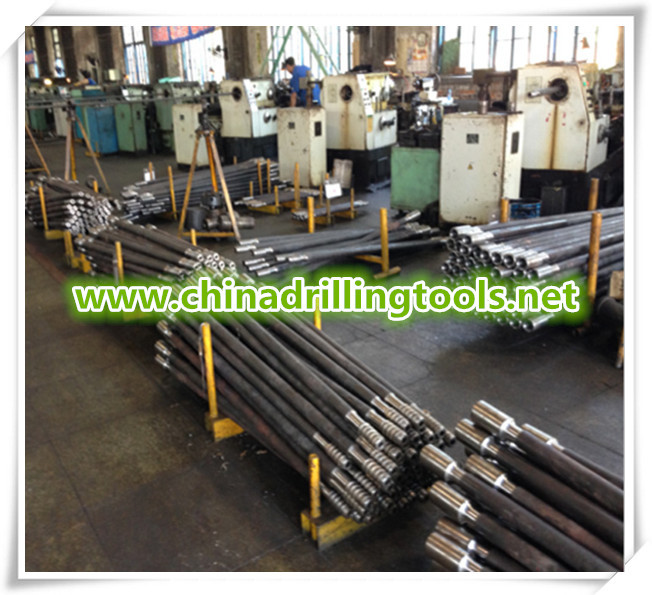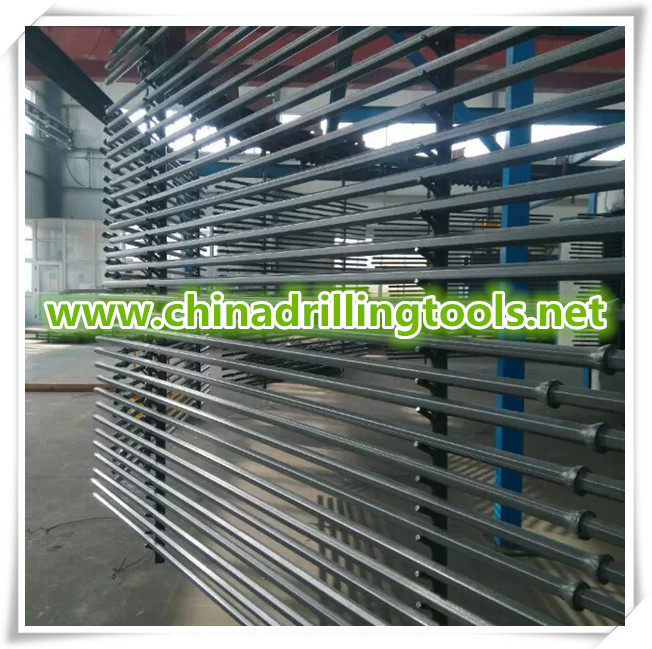 Packaging & Shipping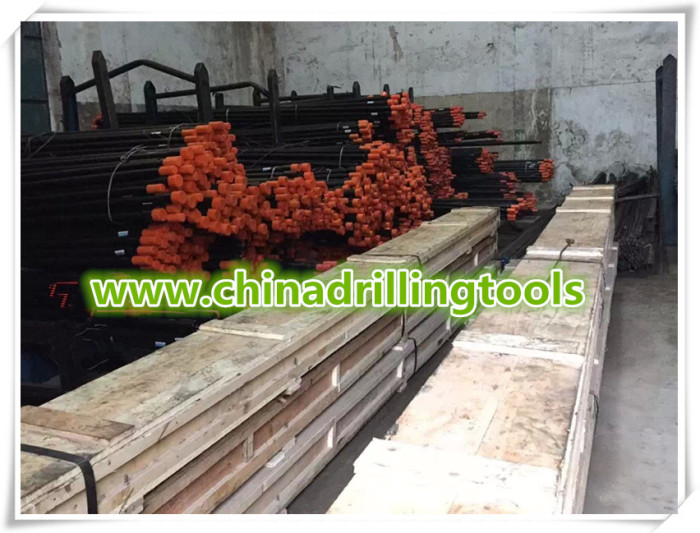 Company Information
Male/Female rod, speed rod:
MF drill steel is an alternative to couplings sleeves to include the female part of the threaded connection as an integral part of the drill steel. MF drill steel procides more rigid connections and is easier to uncouple and handle. The service life also tends to be better than with separate couplings. The advantages of drilling with MF steel include: easy handling, quicker uncoupling, tighter connections, the potential to drill straighter holes, and longer service life.
For extension rod and MF steel process, the below two different types of heat treatment are used to strengthen high speed and powerful percussive drill string components to maximize their performance and reliability. Longer steel larger in diameter, conventional extension steel, Hexagonal and round cross sections are available.
Carburization is a process used to harder the entire rod surface both internally and externally to strengthen and extend the life of the rod.
High frequency induction is process where only the thread ends of the rod are hardened to lengthen thread life.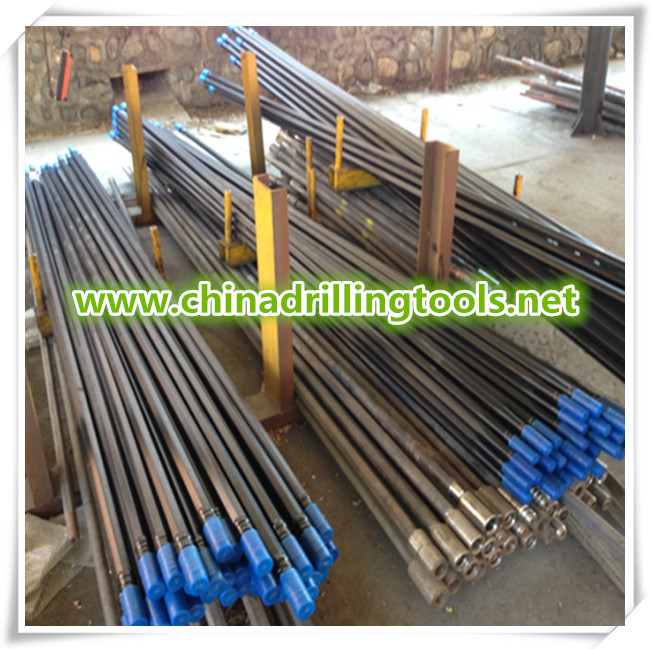 FAQ
1. Q: Can I get some samples?
A: We are honored to offer you samples for quality check.
2. Q: Do you have the products in stock?
A : Yes , We have sample for several models now could supply to you.
3. Q: What's the delivery time?
A: It usually takes about 30 days to produce an order. But the exact delivery time might be different for different orders or at different time.
4. Q: Can I mix different models in one container?
A: Yes, different models can be mixed in one container, but the quantity of each model should not be less than MOQ.
5. Q: How does your factory do regarding quality control?
A: Quality is priority. Rock drilling tools workers always attach great importance to quality control from the every beginning to the end of the production. Every product will be fully assembled and carefully tested before it's packed for shipment.
6. Q: What are your warranty terms?
A: We offer different warranty time for different products. Please contact with us for detailed warranty terms.
7. Q: Will you deliver the right goods as ordered? How can I trust you?
A: Yes, we will. The core of our company culture is honesty and credit. Qianwang has been alibaba's Gold supplier for 2 years. If you check with alibaba, you will see that we have never got any complaint from our customers.
8. Q: What's the payment you accept ?
A: As usual our payment is 50%T/T as deposit and 50%T/T.
Welcome To Contact Us If You Need Any of Our Tools!
E-mail us: chinadrillingtool.net@gmail.com